HydroBlok™ Waterproof Hardwood Flooring
See More about HydroBlok™ Waterproof Hardwood Flooring >>>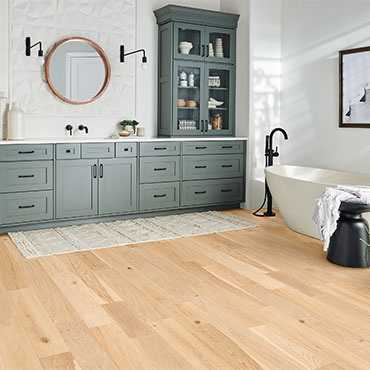 100% Waterproof
HydroBlok™ has an innovative, 3-part system that protects against water damage. Top down moisture protection is guaranteed for up to 36 hours.
Cleantivity™ Antimicrobial Protection
Cleantivity™ inhibits the growth of bacteria on your floor, providing extra protection against everyday germs.
Scratch and Dent Resistant
HydroBlok™ resists scratches, stains and indentations for a lifetime of beauty. This makes it the perfect choice for any room on any level of your home!
Kid and Pet Friendly
HydroBlok™ is durable and stands up to high traffic areas. It has a Janka hardness of 2400-2500 which helps resist indentation.
---
NOTE:
Carpet Central & Hardwood Flooring does not carry every style of product. Check with us first about a particular product or to see if your product choice is available for special order.
---

---
Hartco® Wood Flooring
Hartco Quality Wood Flooring, among the top flooring brands in the world, has a reputation among commercial designers for design freedom. Hartco's range and flexibility also satisfies a yearning for a highly personal, custom style in the home. Hartco patterns and contrasts help define interiors, from traditional to the avant-garde.
---
Profile
|
Website
|
Design Tools
|
Install
|
FAQs